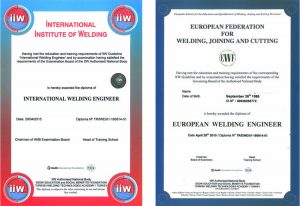 What are the duties and responsibilities of the International Welding Inspection Staff?
It is to check and report whether or not the welded manufacturing is made in accordance with the specified code, standard, procedure, technical specification or instruction.
Why is there a need for International Welding Inspection Staff?
Ensuring the control of all conditions in accordance with the relevant standards before, during and after welding production, and in accordance with the quality systems of all companies operating in international platforms, all welding control procedures require certified, qualified people.
What will be explained during the International Welding Basic Training?
Welding methods, behaviors of metal materials during welding, welding calculations and standards
Non-destructive, mechanical testing and visual inspection technique
Welding instructions, features and implementation of welding procedures
Specifications of materials and consumables
Engineering drawings, workmanship tolerances
Evaluation of welding specifications, methods and procedures
Audit procedures and acceptance criteria
International and national welder qualification programs
Determination of source defects related to pre-production, manufacturing and post-manufacturing
Audit requirements based on national characteristics or codes
Functionality and applications / restrictions of welding equipment
IWIP / B (International Welding Inspection Staff – Basic) / 105 Hours – 6 Weeks
For IIW certified Welding Engineer and Welding Technician: 500 € + VAT
For Engineers, Technicians: 700 € + VAT
Who can participate in International Welding Inspection Staff training?
For IWIP-B (Basic Education);
Working in welding manufacturing practices and / or inspection
International Welding Inspection Staff
Welding Technology
Welding Methods and Equipment
Behaviors of Materials During Welding
Construction and Design
Manufacturing Practices
Welding Audit
Introduction to welding audit
Mechanical Testing of Welding Connections
Welding Defects
NDT Methods
Quality Assurance Principles and Levels
Management of Audit Functions
Practical Studies
MODULES
Welding Technology
Welding Audit
*International / European Welding Engineers (IWE / EWE), International Welding Technicians (IWT / EWT) will be exempted from the Welding Technology module.
IWIP-S *
94 hours
63 hours